New Eat Well Guide Launched
21 Jun 2016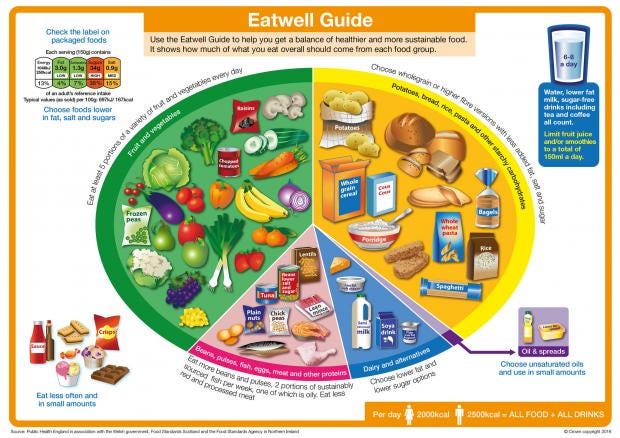 The new Eatwell Guide shows the revised proportions of the food groups that help us meet official advice and nutrient requirements.
There is greater prominence for fruit, vegetables and starchy carbohydrates, preferably wholegrain, in the new guide. PHE recommends consuming 30 grams of fibre a day, the same as eating 5 portions of fruit and vegetables, 2 whole-wheat cereal biscuits, 2 thick slices of wholemeal bread and 1 large baked potato with the skin on. Currently people only consume around 19 grams of fibre per day, less than 2 thirds the recommendation.
Sugary soft drinks have been removed from the image and foods that are high in fat, salt and sugar have been moved to the periphery of the guide, reflecting advice that they are not an essential part of a healthy and balanced diet. Adults should have less than 6 grams of salt and 20 grams of saturated fat for women or 30 grams for men a day.
PHE also advises limiting the consumption of sugar, for example from sugary drinks and confectionery. Adults have twice as much sugar as is recommended and children have over 3 times. Everyone over the age of 11 should consume less than 30 grams or 7 cubes of sugar a day.
The advice that only a 150ml serving of fruit juice counts as 1 of the recommended 5 portions of fruit and vegetables a day is now extended to include smoothies. This is in acknowledgement of the high sugar content of smoothies. The Eatwell Guide now displays drinks recommendations which make clear that adults should be aiming to have 6 to 8 glasses of fluids per day ideally from water, lower fat milks, and unsweetened tea or coffee.